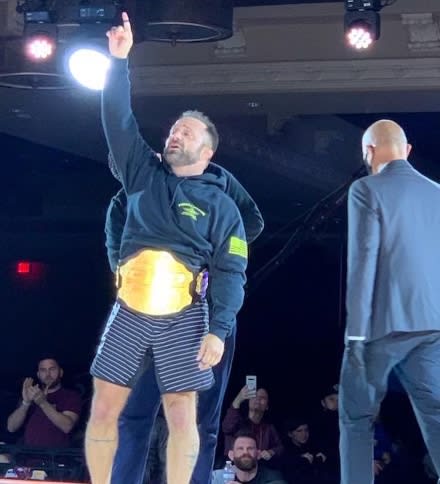 Chad "Robo" Robichaux
Professor Chad "Robo"
Professor Chad Robichaux, known to friends and students as "Robo" is a 4th Degree Brazilian Jiu–Jitsu (BJJ) Black Belt under the legendary Master Carlson Gracie Jr. A lifelong martial artist since the age of 5, in multiple arts, Prof. Robo began practicing BJJ in 1995 and had a successful Pro MMA career with an 18-2 record and 17 of his wins coming by submission. He gives great credit to several coaches and mentors who invested in his training such Carlson Gracie Jr, Prof. Vinicius "Draculino" Magalhaes, Prof. David Vieira Da Silva, Lewis Wood, Brad Anderson and UFC Hall of Famer – 5x UFC Champion Randy "The Natural" Couture. Prof. Robo's BJJ Black Belt is certified by the IBJJF and USBJJF Federations, the officiating body of Brazilian Jiu–Jitsu. He is also a Black Belt in traditional Jiu–Jitsu and was one of the first Black Belt Instructors for the United States Marine Corps Martial Arts Program.
Key Martial Arts Achievements:
– Professional MMA Record of 18-2 with 17 Submission Victories
-#6 flyweight & #15 bantamweight in the world pro rankings by FightMatrix
– StrikeForce Veteran (Showtime)
– Bellator FC Veteran (Main Event on MTV2)
– Former Legacy FC Bantamwieght Champion (HD Net)
– Reality Combat Superfight Champion
– Wins over UFC, StrikeForce, and WEC Fighters
– IBJJF American National NoGi Gold Medalist (Black Belt)
– IBJJF Pans Bronze Medalist (Black Belt)
– IBJJF International Open Gold, Silver and Bronze Medalist multiple times (Black Belt)
– Former Submission Hunter Pro Light Champion
Fight 2 Win Pro Super Fight Winner
– Multi Time JJWL Champion and Black Belt Season Champion
– Multi Time NAGA Champion
Off the Mats:
Professor Robo's resume is equally as impressive on the mat as it is off, which reflects his teachings to students to seek your victories on and off the mats. Chad is a former Force Recon Marine and DoD Contractor with eight deployments to Afghanistan as part of a Joint Special Operations Command (JSOC) Task Force. After overcoming his personal battles with PTSd and nearly becoming a veteran suicide statistic, Chad founded the Mighty Oaks Foundation, a leading non-profit, serving the active duty, military veteran and first responder communities around the world with highly successful faith-based combat trauma and resiliency programs. Having spoken to over 450,000 active-duty troops and led life-saving programs for over 4,500 active military and veterans at four Mighty Oaks Ranches around the Nation, Chad has become a go-to resource and is considered a subject matter expert on faith-based solutions to PTSd, having advised the former Presidential Administration, Congress, the VA, the DoD, and was appointed to serve as the Chairman of a White House Veterans Coalition.
Chad is also the Co-Founder of Save Our Allies, a non-profit that's mission is focused on the evacuation and recovery of Americans, our allies and vulnerable people trapped in Afghanistan. Save Our Allies began as a personal quest for Chad, as he set out to rescue his long-time friend and Afghanistan interpreter, but the mission quickly evolved because of Chad's compassion for people and his servant heart. Since its inception, Save Our Allies has safely evacuated over 17,000 people that were trapped in Afghanistan.
Chad is a bestselling author and has written a number of books related to veteran care and overcoming life's challenges, donating over 250,000 copies to the troops during his resiliency speaking tours. He is regularly featured on national media outlets and his story was notably shared in a short film by I Am Second and the documentary, Never Fight Alone. Currently, a motion picture movie is being produced based on Chad's #1 best-selling book, An Unfair Advantage.
In addition to Chad's military service, he has served our nation as a Special Agent with the US Federal Air Marshal Service and the US State Department as a Surveillance Detection Senior Program Manager. Chad is a Medal of Valor recipient for his bravery beyond the call of duty in law enforcement. Chad has earned an MBA from New York Institute of Technology (NYIT) and is a board-certified pastoral counselor with a focus on PTSd. Chad is married to his wife Kathy of 27 years, and they have a daughter and two sons and two granddaughters. Hunter and Hayden are both 3rd generation Marines in the Robichaux family and share Chad's passion as martial artists.
Learn more at www.MightyOaksPrograms.org or www.ChadRobichaux.com
Quick Q&A
1. Favorite ordinary things?
Studying the Bible, time with family, writing, and skydiving.
2. Favorite music to focus before Competing?
Norah Jones… her music and voice calms my soul and lets me focus.
3. Type/style of jiu jitsu?
Technical pressure passer, a strategist always setting traps and staying one step ahead. "Every path leads to north / south position."
4. BJJ heros?
Master Carlson Gracie Jr.
Prof. Vinicius "Draculino" Magalhaes…
these men are both my bjj heroes on and off the mats.
5. BJJ goals?
-Pass on everything I know to the next generation.
-Win Gold at IBJJF Masters World Championships at Black Belt.